If you're anything like me, some days you just can't motivate yourself. Discipline has got up and left. You need something massively inspiring to get going. My favourite form of inspiration is humans doing impossible shit. Ordinary people like us who one day, just up and decide that they can. They climb their version of the mountain because it's there, like Hillary (sort of ) said. The ones who dare to smash impossible to pieces. Here are my top three giant slayers:
Number one: James "The Iron Cowboy" Lawrence. James is the world record holder for most half-Iron and full-Iron distances completed in a year. Before 2008, he had never really ran any sort of race. In 2015, he created and completed the 50/50/50 Challenge: 50 Ironman triathlons, done over 50 consecutive days, one in each of the 50 states. That's a 3.8km swim, 180km bike ride and a marathon (42.2km), every day for 50 days, while traveling. Physically, I can't think of anything that would be tougher but mentally? Holy shit. Imagine being 25 races in and knowing you have 25 to go? Damn. It wasn't all smooth sailing either. Crashes, injuries, inclement weather and other unfortunate events plagued the event. I highly recommend his book about the whole experience, along with the documentary.
In second place, but not by much: Diana Nyad. In 2013, at age 64 (!), she became the first person to swim from Florida to Cuba without a shark cage. That's a shark-filled distance of 110 miles over 53 hours. Impressive in it's own right, but even more inspiring is Diana's tenacity: It was her fifth attempt. Not many of us would actually try five times to let sharks eat us in the name of achieving a goal. In the '70's, she set records for swimming around the island of Manhattan, for swimming from the Bahamas to Florida without a wetsuit (that record still stands today) and more. She's brave af and what makes her even more courageous is her willingness to discuss what drives her in these pursuits: anger stemming from childhood abuse and her desire to overcome her pain. I highly recommend her TED talk.
Lastly, but by no means least: Alex Honnold, who is sort of like Spiderman. He's a free climber, meaning he scales places like El Capitan in California's Yosemite National Park, with no equipment (no ropes, no nuthin'). That's an ascent of 2900ft, and he did it in less than 4 hours. He's also scaled places like the Moonlight Butress in Utah's Zion National Park and the Fitz Roy Traverse in Patagonia. Alex describes his free solo climbs "Like trying to win an Olympic gold medal, but if you don't win, you die." There's a really great documentary on Alex's attempt at El Capitan called Free Solo. Watch it! He's known to live in a camper van so he can live near climb sites and set up his own foundation when he was 27 to fund small small social and environmental organizations that demonstrate concrete and sustainable project goals. Did I mention he gives about 30% of his salary to the initiative? Gotta love a guy who takes on the seemingly impossible and does good for the world.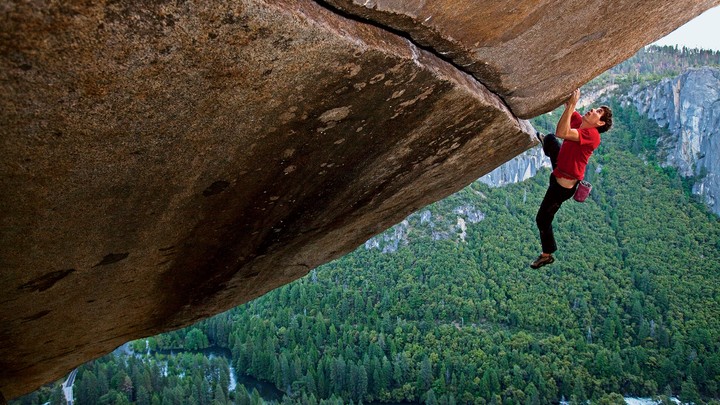 So the next time you feel like you need some inspiration, read up on one of these three amazing humans. it's people like these who personify true grit. Every time I catch myself using bullshit limiting beliefs or wondering if I can Do The Thing, I look outside to get myself hyped up. I say things like "If James Lawrence can do 50 Ironman races in a row, surely I can get my ass on the mats tonight." We all need a little kick sometimes. Who inspires you?